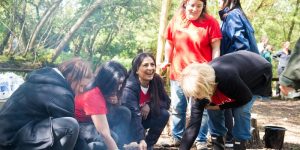 This is an exciting time for Boundary Brook Nature Park, and Oxford Urban Wildlife Group (OUWG) is looking for a new Chair to help us create a new lease of life for this wildlife haven and community space.  We are working together with BBOWT and Oxford City Council to offer a programme of community events, training courses & practical conservation volunteer opportunities, whilst also hosting Forest Schools and ecotherapy.
We have a very engaged trustee board of 9, supported by some very active members, and are looking for a Chair to run our meetings every 6 weeks, ensure that we follow good governance and that we have an effective relationship with our key stakeholders (members, BBOWT, the Council, conservation volunteers and schools).  Previous experience or expertise in nature conservation is not necessary, though it would be an advantage.
For more information contact: candida.march@yahoo.co.uk.