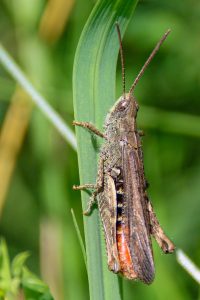 Please see below our updated advice regarding membership of Oxford Urban Wildlife Group and access to Boundary Brook Nature Park. Please do email us at info@ouwg.org.uk if you have further questions or comments.
Combination lock 
Following the government's revised guidance on movement, we have decided to go ahead with our plan to improve access to Boundary Brook Nature Park by replacing the old lock on the main gate closest to Larkrise Primary School with a new combination padlock. 
The new lock was installed on Friday 15th May 2020 and you now need to use a code to access the site. Please note that your existing key will no longer work. All members have been sent the new code via email.
The new lock is simple to use – just enter the code to unlock, press the lock upwards (towards the loop), then swizzle the numbers after you lock it again. Please don't share your code with others. 
We will be changing the code on the lock from time to time to ensure that appropriate access to the site is being maintained, and we will update you when we do so.
New members accepted
We are also accepting new members who will be given the lock code once their membership has been confirmed. 
Staying safe at BBNP COVID 19 Guidance
If you visit BBNP we recommend that in line with government guidance:
Do not visit if you …

Have a cough, high temperature or flu like symptoms,
You suspect that you might have COVID-19, or
You have been in close proximity to anyone that has symptoms of COVID-19
Gate & lock

Wear gloves or a thin plastic bag to cover your hands when using the lock.
If you have your own sanitizer you may wish to bring this with you as well.
Avoid touching any other surfaces or equipment you find on site.
Practise social distancing

Be aware of other people who may be on the site. Do not visit if there appears to be too many other people around.
Practise social distancing

Be aware of other people who may be on the site. Do not visit if there appears to be too many other people around.
Stay at least 2 metres apart from any other people that you encounter.
Be aware that most of the paths on site are narrow. If you see another person coming towards you, go back if you cannot pass each other at least 2 metres apart.
Do not visit in large groups. Remember that you should not meet more than one other people from a different household when outdoors for exercise.
Other Guidelines on site
We are working hard to clear the site of rubbish and other hazards but please take care when you are walking around and avoid any areas marked with yellow warning tape – particularly the standing shed at the back of the site and the piles of rubbish by the coppiced area near the allotments in the extension area.
Please keep to the paths and do not walk on the meadows, planted up cornflower mound, the woodland floor where there are small woodland plant plugs growing and woodland mix have been sown.
We are developing our meadows and long grass to protect biodiversity and our slow worm population, so please keep off these areas, including the area around the pollarded goat willow that looks like a glade.
Children under the age of 15 must be accompanied by an adult when at BBNP. Please keep children in sight at all times if you are near the pond and do not go on the dipping platform, which has been taped off with hazard tape.
Please be aware of nesting and young birds – please be quiet when visiting the site and stick to the paths.
Please try to minimise essential activity as much as possible to avoid disrupting the ecology.
Do not go on the allotments.
Please be aware the site is used by members who are visiting to be in nature and to enjoy a peaceful nature experience, so do be sensitive to their presence.
Please bring your own drinks and snacks and do not share these. Take your rubbish with you when you leave.
How was your visit?
We want to learn more about your experience of BBNP and how we can make it better. We are currently working on a questionnaire and will make this available soon.
In the meantime, if you have any comments please email info@ouwg.org.uk.