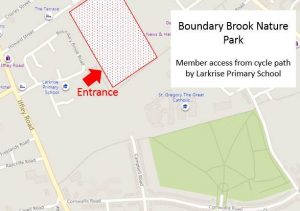 Because of the proximity of Boundary Brook Nature Park to the East Ward Allotments from which it was created, the Park is a secure site, accessible with membership of OUWG from only £5/year.
By limiting visitors to those wanting to support the long-term future of the site, the park offers the best conditions for wildlife to flourish. Join us to see for yourself the hidden secrets behind the gates!
Please note that, due to the Coronavirus restrictions currently in place, we have had to suspend all events at Boundary Brook Nature Park. However, the site remains open to members who follow social distancing guidelines.
Read our Updated Covid-19 Advice for Members for full details of how the government restrictions affect your membership.
Receive news and see photos and videos of the Nature Park by subscribing to our seasonal e-newsletter and following our activity on our Facebook and Twitter pages.
There is free parking in the road and Stagecoach Route 3 passes the end of Boundary Brook Road.
To hear about our latest news and get an idea of OUWG's work and the habitats you can find at Boundary Brook:
Subscribe to our seasonal e-newsletter!