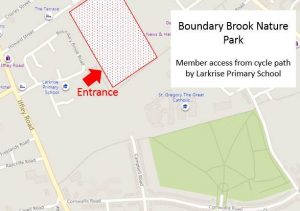 Because of the proximity of Boundary Brook Nature Park to the East Ward Allotments from which it was created over 30 years ago, the Park is a secure site, with OUWG members given a key upon joining.
Unfortunately, following COVID-19 restrictions on movement, we have paused our plans to increase access to Boundary Brook. This means that regrettably, we are unable to provide keys to new members, but you can still receive news and see photos and videos of the Nature Park by subscribing to our seasonal e-newsletter and following our activity on our Facebook and Twitter pages.
Read our Covid-19 advice for members
There is free parking in the road and Stagecoach Route 3 passes the end of Boundary Brook Road.
To hear about our latest news and get an idea of OUWG's work and the habitats you can find at Boundary Brook:
Subscribe to our seasonal e-newsletter!