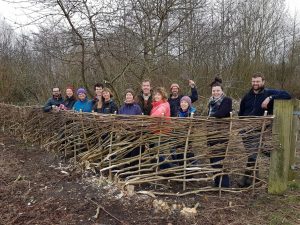 We are extremely excited that Boundary Brook Nature Park has joined the Wild Oxford project, a partnership between BBOWT Wildlife Trust and the City Council to inspire the community to enjoy wildlife on their doorstep.
BBOWT and the Council will help to run family events, conservation workshops, and support volunteers at Boundary Brook. 
"Boundary Brook is a natural fit with our Wild Oxford Project," says BBOWT's Head of People Engagement, Liz Shearer. "The wealth of the site to wildlife is huge and is so valuable in creating a Nature Recovery Network across the city where wildlife can thrive alongside people."
Since we entered into this exciting new partnership, Boundary Brook Nature Park has hosted courses on hedgelaying and coppicing, four local forest schools, and a Family Nature Day which attracted visitors from across the county.
"As well as being a great way to meet people, learn new skills and have fun, volunteering will give you the satisfaction of knowing that you're helping to protect and enhance your local environment to benefit wildlife and connect people with nature," says Community Wildlife Officer, Ed Munday.
We have just announced our Winter Work programme, and will be running many more events over the coming months, open to all. If you'd like to find out more and get involved at this exciting time of regeneration for Boundary Brook Nature Park, Contact Us or Become a Member.