Are you looking for ways to add interest to your lockdown outdoor exercise this winter? Were you inspired by the RSPB's Big Garden Birdwatch last weekend?
If so, Boundary Brook is a great place to practise your bird-spotting skills. Read on to find out our rarer recent visitors, top spotting tips for birds at Boundary Brook at this time of year, and how to get help identifying birds from our resident ornithologist Nick Boyd.
Winter is one of the most rewarding times for bird-spotting, as the trees' bare branches help make birds much more visible than at other times of the year. Birds are busy looking for food through the colder months, and later in the season, singing for mates and scouting for nesting sites. It's also a great opportunity to spot rarer winter visitors that migrate to the UK from Scandinavia and further afield.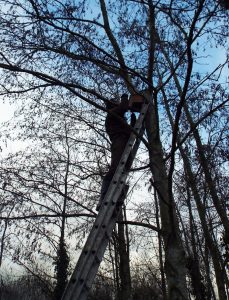 If you haven't done so yet, it's not too late to put up a bird box – but be sure to clean out last year's boxes with boiling water to remove any parasites that could harm the chicks first. If you have any boxes that you no longer use and want to donate for us to position at Boundary Brook, please get in touch.
Help us provide a safe home for our resident tawny owls
We've been busy preparing the site for the imminent nesting season, and have put up boxes around the site for sparrows, tits, and – most notably – tawny owls! We're excited by several reports of tawny owls in and around the site from our neighbours in Howard Street recently, and whilst Boundary Brook is not (yet) blessed with acres of mature woodland trees, we've scouted out a Scots Pine that offers sufficient support for a tawny owl nest box and the horizontal branches that the chicks need to explore their surroundings and test their wings before fledging. It may be another few years until the o-wls find the woods developed enough to call home. In the meantime, we'll be keeping our fingers crossed!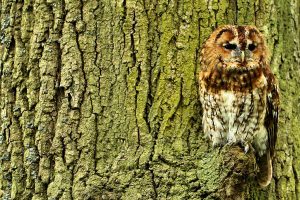 If you spot the large nest box alongside the butterfly glade on the Howard Street side of the site, be aware that brooding tawny owls are sensitive to disturbance, and can be aggressive, so please resist the urge to be too inquisitive.
Tawny owls are very well camouflaged in their woodland setting, so the best way to identify them is usually by the characteristic wavering 'hoohoo' hoot – this is the call of males looking to attract a mate, heard at dusk or after dark. The female call is a sharp 'ke-wick'.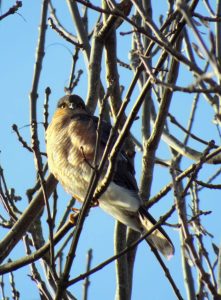 Other birds of prey seen at Boundary Brook include the ubiquitous (but equally lovely) red kites soaring overhead, and also landing onsite, kestrels hovering by the allotment boundary looking for prey, and a visiting sparrowhawk – like this beautiful adult male spotted just a few days ago surveying its territory at Boundary Brook – thanks to OUWG Chair Helen for the excellent photo!
Top tips on what to look out for at Boundary Brook this winter
If you keep a keen eye out onsite at the moment, in addition to the easily spotted tits, robins, blackbirds and wood pigeon, you're more than likely to spot flocks of goldfinch feasting on the seed heads of our many teasels around the Reserve. The striking red, black, and white face markings and flash of gold on the wing make these birds one of the most eye-catching and easy to identify finches – a real treat. Speaking of which, teasels are an excellent winter food source for finches and other birds, and make an impressive silhouette on frosty days when little else is growing in the garden, so it's a great idea to plant some if you have a garden to encourage birdlife at home. Greenfinch are also starting to come into song again – have a listen to their distinctive buzzy-sounding song to help you ID them.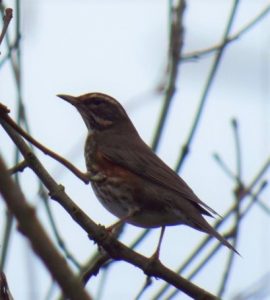 Redwing can also be seen in abundance at Boundary Brook at this time of year – look out for a thrush-like bird with distinctive orange-red side markings beneath the wings and a striking pale eyebrow and 'moustache' stripes on the face. With resident Song Thrush populations in serious decline, the redwing is a welcome addition to the thrushes at Boundary Brook. Millions of this sociable winter visitor arrive from Scandinavia each winter and stay until April – at the moment, they're easiest to find feeding on ivy berries or lingering hawthorn berries.
Woodpeckers also visit Boundary Brook – green woodpeckers love eating ants so are often seen on the ground, hoovering up their favourite insects. Keep a look out around the meadow where they have been seen most recently.
Greater spotted woodpeckers have been spotted – and heard! – on the more mature trees at the Nature Reserve recently too. These piebald favourites will be starting to engage in their telltale loud drumming on tree trunks instead of singing to claim territory and attract mates, so keep an ear out for the unmistakeable rat-a-tat-tat next time you visit. Both males and females engage in this behaviour, but if you're lucky enough to spot one, they can easily be told apart, as the male has a red patch on the back of his head, whereas the female's head is black and white.
One or our more exotic visitors are the bright green Ring-necked parakeets that escaped captivity to become our only naturalised parrot. They have a red beak and a pink and black ring around the face and neck, and can be noisy, so keep your eyes and ears peeled. Numbers of these non-native species are spreading fast in Oxford and elsewhere, and it's thought that they could have negative impacts on woodpeckers and other native species, so it's important that we monitor their numbers closely.
Goldcrest, along with the firecrest, is the UK's smallest bird, so you'll need an eagle-eye to spot them, but they are to be found flitting around the conifer trees at Boundary Brook. Their dull greyish-green plumage and pale belly are not particularly distinctive – it's the Mohican-like flash of a narrow black and yellow stripe on their heads that's the best sign of this fabulously rewarding little species. Time to invest in a good pair of binoculars!
For the more serious twitchers (we know you're out there!), there will be spotters' badges awarded for all who spot the rarer and more elusive Siskin that we've seen enjoying the cone seeds high up in the top of the alder trees near the kidney pond over the winter. Males are easier to identify with their bright yellow breast and cheeks, and a black cap, while females are a drabber pale yellow.
Redpoll have also been seen around the birches bordering the butterfly glade and allotments at the far end of the North Wood side of the site. These small brown and white finches can be identified by their small red forehead patch, black feathering around a yellow bill, and two white wingbars. Males have a pale red vest on the chest and upper flanks. Only a few hundred redpoll are recorded each year in the UK, so its important that we keep track of the population at Boundary Brook.
Become a citizen scientist and help us protect birds at Boundary Brook
You've probably noticed the whiteboard by the shed at the entrance to the Reserve where visitors can record their wildlife sightings onsite. This is a great way to let us know some of the rarer wildlife you've seen and help us keep track of the site's biodiversity – but it's not so easy to capture all that invaluable data that our members record …
Introducing iRecord
… Which is why OUWG is moving into the 21st century and launching Boundary Brook Nature Reserve on iRecord, the Biological Records Centre's (BRC) online tool for recording wildlife! You can share your sightings of birds and other wildlife through the iRecord website, and the iRecord App let's you record what you see while you're onsite. You can upload photos, and experts will review and validate any sightings you're unsure of.
Why use iRecord?
By sharing records in one place, you can be a citizen scientist, contributing to evidence-based decisions about how to develop and manage Boundary Brook. This will help with future fundraising and other efforts to secure the Reserve's long-term future, and the results will also efforts feed into county-wide efforts to maximize biodiversity and wildlife conservation.
How do I use iRecord?
Download the iRecord App, register, and start adding records with the '+' button, and entering the Location as 'Boundary Brook Nature Reserve'. You can enter multiple records to the same location by pressing and holding the '+' button and choosing General Survey to record your sightings. Video guides to downloading and using iRecord are on the TVERC website, and there's a getting started guide.
If you don't have a smart phone, please do continue to write your sightings and the date on the whiteboard onsite and we'll add those to iRecord too.
Our resident ornithologist Nick Boyd has been helping us spot and identify these rarer species, and is happy to help with bird identification if you're not sure of what you've seen. If you snap a photo or record some audio of birdsong and email it to us, Nick will more than likely be able to pinpoint your bird, or you can just send in a description and he'll let you know what the likely species suspects are.
In our bird surveys this winter, we've currently confirmed 29 species visiting the site since last year – take a look at the list below:
| | |
| --- | --- |
| Common name (English) | Scientific name (Latin) |
| Red kite | Milvus milvus |
| Sparrowhawk | Accipiter nisus |
| Wood pigeon | Columba palumbus |
| Collared dove | Streptopelia decaocto |
| Tawny owl | Strix aluco |
| Green woodpecker | Picus viridis |
| Great spotted woodpecker | Dendrocopos major |
| Magpie | Pica pica |
| Carrion crow | Corvus (cornix) corone |
| Goldcrest | Regulus regulus |
| Blue tit | Cyanistes caeruleus |
| Great tit | Parus major |
| House martin | Delichon urbicum |
| Long-tailed tit | Aegithalos caudatus |
| Chiffchaff | Phylloscopus collybita |
| Blackcap | Sylvia atricapilla |
| Wren | Troglodytes troglodytes |
| Blackbird | Turdus merula |
| Song thrush | Turdus philomelos |
| Redwing | Turdus iliacus |
| Robin | Erithacus rubecula |
| Dunnock | Prunella modularis |
| House sparrow | Passer domesticus |
| Chaffinch | Fringilla coelebs |
| Greenfinch | Chloris chloris |
| Goldfinch | Carduelis carduelis |
| Siskin | Spinus spinus |
| (Lesser) Redpoll | Acanthis cabaret |
| Bullfinch | Pyrrhula pyrrhula |
It's an impressive indication of the diversity of species benefiting from Boundary Brook, but we expect there are another 10-15 species that we should be able to identify onsite over the next year.
If you spot a bird onsite that's not on the above list (birds flying over the site can't be counted, unfortunately!), please do help us reach our target of 40+ confirmed species by letting us know – ideally with a photo for Nick to verify the sighting.
Nick has drawn up a target list of species that are likely to visit the kind of habitat that Boundary Brook offers below, so keep in mind these likely suspects the next time you visit:
Fieldfare – listen for their "chuh-chuh-chuck" call
Starling – common enough to surely visit the site, but no confirmed sightings recently – check treetops, or for feeding birds on the Hay Meadow
Jackdaw – commonly heard flying over; check treetops
Pied wagtail – probably pops into the Hay Meadow to feed sporadically
Jay – look out for the bright white rump above a black tail as it flies off and listen out for this harsh screeching
Treecreeper – climbing tree trunks; might be joining mixed tit/goldcrest flocks passing through
Feral pigeon (rock dove) – obviously not a native (or popular!) species to Oxfordshire but very much a part of our wild ecosystem now. [NB if you see a largish grey pigeon without woodpigeon's big white neck patch it could be feral pigeon, stock dove, or a young wood pigeon, ideally get a photo]
So please do make Boundary Brook part of your regular lockdown exercise, keep your eyes to the skies and ears peeled, and take part in some invaluable citizen science with iRecord in the process.