Introduction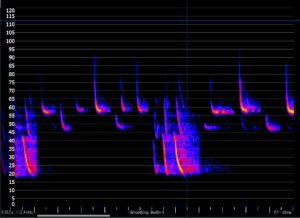 Boundary Brook is located within the urban environment of Oxford, with habitat composition onsite including young-coppiced woodland, semi-mature woodland, ponds and species-rich grassland. These habitat within the site have the potential to support foraging and commuting bats. To establish if bats are present within the site activity, surveys were conducted.
All British bats are classed as European Protected Species under the Conservation of Habitats and Species Regulations 2017 (as amended) and are also listed under Schedule 5 of the Wildlife and Countryside Act 1981 (as amended).
Methods
The activity surveys involved walking around the site on a set transect with a bat detector. Each bat heard or seen is recorded on a form. The survey starts at sunset and finishes around 2 hours afterwards depending on how suitable the weather is and level of bat activity. Listening points were planned where the surveyors would stand still for 5 minutes. The weather constraints on the survey are that it had to been 10 degrees or above at sunset, little to no rain and no high winds.
The calls heard during the survey were recorded and then analysed using Anabat insight to establish if any species were missed during the walked transect.
Results
The below tables show how many calls of each species of bat were recorded during the surveys undertaken at the site.
May
Common

Pipistrelle

2

Soprano

Pipistrelle

1

Noctule

2

Total

5
August 
Common

Pipistrelle

126

Soprano

Pipistrelle

36

Noctule

1

Unidentified

Big Bat

21

Total

184
Conclusion
Three species of bats were confirmed as present on site. These are three of the most common species found in the UK and are tolerant of light spillover from the surrounding urban environment. The overall number of bats was low in number. This is likely due to the maturity of the habitat on site. It is suggested that further surveys take place to see if as the habitat matures whether the number of bats using the habitat increases.