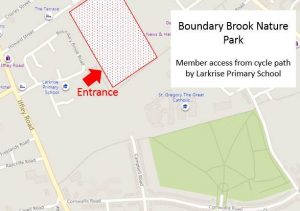 To contact OUWG, send us an email or fill out the contact form at the bottom of this page.
Following the government's revised guidance on movement, we have decided to go ahead with our plan to improve access to Boundary Brook Nature Park by replacing the old lock on the main gate closest to Larkrise Primary School with a new combination padlock, the code for which is emailed to all members. 
If you are shielding or unable to visit for any reason, you can still receive news and see photos and videos by subscribing to our seasonal e-newsletter and following our activity on our Facebook and Twitter pages.