Camilla Lambrick of the Ashmolean Natural History Society writes the second of her seasonal guides to wildflowers at Boundary Brook, to accompany the popular plant species surveys and Plant ID workshops she has been offering at Boundary Brook this summer.  
I loved the plant ID session very much, it was wonderful, I was really inspired and wished I realised that I would love to study to become a botanist if only I could."

— OUWG member Eliane Aubain
The next Plant ID session is 11 a.m.  on Saturday 17th July, with a final session on 28th August.
Read Camilla's guide to Early Summer Wild Flowers in Oxford, illustrated by photographs from OUWG Chair Helen Edwards.
Compositae, the Daisy or Dandelion family or Asteraceae
Flowerheads composed of many separate tiny flowers called florets.
Beaked Hawk's-beard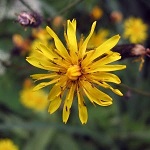 After the dandelions, this is the next dandelion-like flower to get going in May along the road verges. Its tall, branched stems can reach up to nearly two metres tall, and the flowers are 1.5 to 3 cm across. The plant is biennial – growing to form a rosette of leaves on the ground in the first year, and a tall flowering head in the second, and then dying back. Best distinguished from other plants with dandelion-like flowers by having leaves up the stem, and from other hawk's-beards by the pinkish stripe on the outside of the underside of the outer florets. The hawk in the name is thought to refer to medicinal purposes for eye complaints – to become sharp-eyed as a hawk. 
Its Latin name Crepis, coming from the Green "krepis" a textured light cloth that had various uses including veils. From there it went into Dead Latin as "crispus, or, "crisp" meaning curled and wrinkled. Then to French and lastly to English as  "crepe" as in "crepe paper."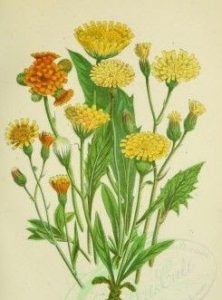 Mouse-ear Hawkweed
This delightful little lemon-yellow hawkweed prefers dry, lime-rich soils. The upper side of the leaf has long scattered hairs, while the underside is thickly felted with short white hairs.
Botanical Print
Umbellifers, the Carrot family, or Apiaceae
With white flower heads arranged like an umbrella.
Cow Parsley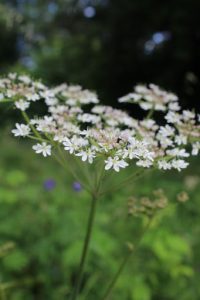 Also called Queen Anne's Lace or Keck this frothy umbellifer is a familiar plant of roadside verges.  The feathery leaves are deeply divided. As it is easily confused with poisonous umbellifers, such as Hemlock and Fool's Parsley, eating it is not recommended. The smell of the crushed young leaves is characteristic, while leaves of Wild Carrot (also called Queen Anne's Lace) are distinctly carroty. Many species of this family are aromatic and have been used as flavourings since Roman times, for instance Carraway, Fennel and Cumin.
Known to Shakespeare as Kecksies
In Henry V, the Duke of Burgundy likens France to a neglected garden:
her hedges even-pleach'd,
Like prisoners wildly overgrown with hair,
Put forth disorder'd twigs; her fallow leas
The darnel, hemlock and rank fumitory
Doth root upon,…  The even mead, …
Wanting the scythe,…nothing teems
But hateful docks, rough thistles, kecksies, burs,
Losing both beauty and utility.
Stone Parsley
The leaves of this slender umbellifer are less divided than in the Cow Parsley, being once pinnate, that is divided into a series of leaflets down each side of the leaf stalk. The young foliage smells of petrol when crushed, and the aromatic seeds can be used as a condiment. This is a plant of disturbed ground and waste places.
Ground Elder
This shade-loving perennial can become a pernicious weed. The leaves are divided into three leaflets and can be eaten as cooked "greens".
Hogweed
Like the related Giant Hogweed, the leaves of this plant can bring out a nasty rash, though the seeds can be used as a flavouring. The flowers of this plant are immensely popular with a wide range of insects.
Hemlock (not currently found at Boundary Brook, but common on Burgess Field)
This is a very tall plant (up to 2.5 m) with purplish blotches on the smooth stems, and feathery leaves. It is highly poisonous, especially the seeds and roots, giving the infusion which the Greek Philosopher Socrates took when he had been convicted for corrupting the young.
Red and White Campion and Ragged Robin
In the Campion family each of the five petals is deeply notched at the tip, while in Ragged Robin the petals are further divided into four slender ribbons. The leaves arise in opposite pairs up the stem.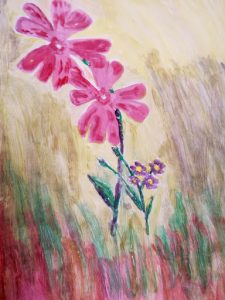 The Red and White Campions hybridize readily, giving a hybrid swarm of pinkish flowered plants. Red Campion prefers shady places, while White Campion likes full sun, and Ragged Robin grows near water.
Ragged Robin by the Wildlife Garden Pond
As Sarah Raven writes in her book Wild Flowers, they:
look a bit dishevelled, like a skinny dandy after an all-night party.  So many flowers are exercises in perfection and prettiness, but Ragged Robin is cooler than that: a Red Campion that has been through a shredder.
The Ragged Robin Fairy by Mary Cecily Barker
In wet marshy meadows
A tattered piper strays—
Ragged, ragged Robin;
On thin reeds he plays.
He asks for no payment;
He plays, for delight,
A tune for the fairies
To dance to, at night.
They nod and they whisper,
And say, looking wise,
"A princeling is Robin,
For all his disguise!"
Crucifers, or Cabbage family or Brassicaceae
Flowers with four petals arranged like a cross, usually white or yellow. Fruit a long, narrow pod.
Hedge Garlic or Jack-by-the-Hedge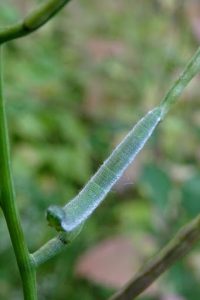 This white flowered, shade-loving crucifer is a food plant for caterpillars of the Orange Tip butterfly. The narrow, green caterpillars look just like the developing seed pods. The young leaves, flowers and buds make a tasty addition to salads. Various parts of the plant were also used for medicinal purposes.
Jack-by-the-Hedge by Cicely Mary Barker
Don't you know him? Straight and tall—
Taller than the nettles;
Large and light his leaves; and small
Are his buds and petals.
Small and white, with petals four,
See his flowers growing!
If you never knew before,
There is Jack for knowing!
Canola, Rapeseed or Oilseed Rape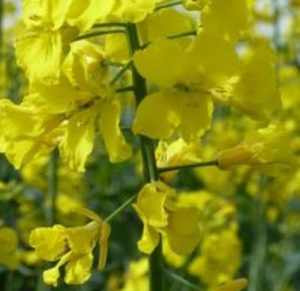 This large, yellow-flowered plant has recently become common on roadsides and waste places, especially along the river. It is grown extensively for its oil-rich seeds, and also provides food for honey production by bees.
Ladies Smock or Cuckoo flower is also a member of this family (see Spring Flowers)