Mindfulness is all about being here, now, in this moment.
But it's much more easily said than done! If you pause as you read this, there's a fair chance your mind is doing its own thing. It might be that as you notice what your mind's doing, you tune in to your breathing, feel your feet on the ground and come back into the present.
Our mindfulness sessions in the wild garden are an invitation us to do just this.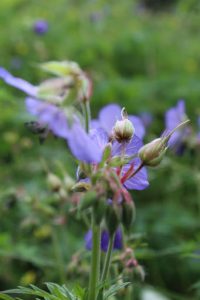 By meeting together beneath the open sky, surrounded by wild flowers, and in the company of creatures visible and invisible, we wanted to do something a little different. Our idea was to offer a monthly space to pause and take a breath, and to connect with oneself and the beautiful natural world around us. The three of us – Jude, Isobel and Candy – would take it in turns to lead. In this way participants would experience variety within the core practice.
In our first two sessions, in May and June, a small group of us gathered around the pond, its surface moving slightly in the breeze and with the ceaseless wriggling of tadpoles, and we were blessed with a break in showers with dappled sunlight.
Settling into stillness, we were invited to let go of any thoughts about 'getting it right' but rather to bring a friendliness to our experience, and welcome what is here. With eyes closed, sitting on a log or the bench, we turned our attention to our breathing, and then to the sounds all around. When the mind gets distracted, listening to the sounds – the movement of wind in the leaves, the birdsong, the distant chatter of children in the playground – is a way of coming back to the present moment. There was then an opportunity to move away from the pond and find another place to sit or stand, and practice there.
In our second session, we noticed movement – the movement of breath in the body and sensations of aliveness, and then the movement of life all around us. The practice was to come back to the breath when we got caught up in looking!
Each session begins with a short guided practice, and participants then continue on their own for about 15 minutes, either in the same spot or a different place if they wish. There's then an opportunity to briefly share experience. All those who've come so far have appreciated the space to pause, feel and breathe, and to feel themselves for a short while as part of the living world, in the company of others.
The next session is 9 – 9.45 am on Friday 13 August and thereafter on Friday 17 September.
We look forward to seeing you!