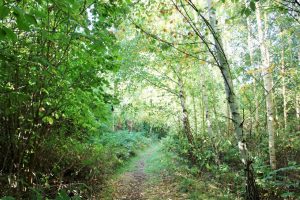 OUWG Trustee and Woodsman Pete Byfield offers the first of his seasonal diaries from life on Boundary Brook, full of horticultural hints, woodland wisdom, and ways to get involved!
This Springtime post reveals our plan to get more flowers into BBNP's woods and coppices ….
For reasons that nobody seems to understand entirely, there's a wide gulf between the flora of ancient woodland and the kind you might find in woods that have established themselves on vacant land or been planted (known as secondary woodland). 
At the time of writing (late March), most ancient woodlands are acquiring their magic carpet springtime flowers such as celandine or wood anemone – with bluebells soon to follow.  
Secondary woodland, including parts of BBNP's 'old wood' – the area of trees planted in the early days of the site – are just dour and drab with ivy that not only covers the ground but creeps up most of the trees and colonises the crowns. Ivy is an excellent indicator of secondary woodland throughout the British Isles – even though a particular wood might have been planted in Victorian time. 
This isn't a rant against ivy. Small birds such as wrens and tree creepers, not to mention a whole host of insects, are big fans of ivy and its flowers provide an important source of nectar at crucial times of year. Ivy is good. But it would be nice if Boundary Brook had some flowery springtime carpets as well. 
Simple enough, you might imagine. Buy some woodland flower seeds, sow them with gay abandon and stand well back. But as the honest salesman who recently sold us a trial 100 grams of mixed woodland flower seeds admitted 'they don't usually work very well'. 
Nevertheless, these seeds will be sown, by way of experiment, partly in the 'old' wood and partly in one of the newly-cut hazel coppice areas. But this won't be a complete answer. The floral denizens of ancient woodland seem to be programmed, almost perversely, in favour of a conservative stay-where-you-are policy.
Take bluebells, for example. Each flower will usually produce prolific seed and – given the shimmering carpets of smoky blue that can be found up on Shotover in a month or so – this can amount to millions of potential new bluebells each year. 
But there's no obvious dispersal mechanism. And if you collect the seed to sow elsewhere (which you shouldn't without formal permission from the landowner – bluebells have ferocious protection under the Wildlife and Countryside Act), don't expect a riot of colour any time soon. 
Coaxing the seeds to germinate can be hard enough, but then they need five years in which to mature from a wisp of green to a bulbous plant capable of flowering. And much can go wrong during this time. Most woodland ground flora seem to have their own constraints against spreading too far and too fast. Goodness only knows how most of them managed to colonise British woodlands in the first place.  
Even ephemeral woodland plants aren't entirely straight forward. My favourites are foxgloves. For two or three summers after a coppice is cut, foxgloves can produce a stupendous display of colour, especially on sandy soils. But then they're gradually suppressed by developing shrub canopy until the next harvest of wood. 
Boundary Brook has two freshly-cut hazel coups, but don't hold your breath. Foxgloves are biennials – they become established as small plants in their first year after germination and then flower in the second year. We might have success next year if we can sow some seed over the next couple of months.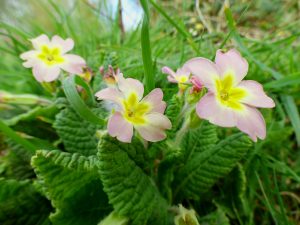 Years ago, Pat Mansfield and friends had success planting primroses and bluebell bulbs into 'the old wood', when the present trees were still saplings. These did well for several years, although they didn't spread much. In recent years, unfortunately, the canopy in the old wood has become too dense and there has been a marked decline. There has been some thinning of the tree canopy this winter but it's unlikely to bring the primroses back without further help.
A greater long-term success has been achieved with wild garlic. If you take the longest path through 'the old wood' there are three significant patches at the elbow turn and a looser linear cluster approaching the meadow blackthorn area. All these are now flourishing and while there's no indication the clusters are spreading through seed dispersal, it's probable that we can accelerate vegetative reproduction with transplants later in this present growing season.  
Another strategy is 'plug plants'. Oxford Urban Wildlife Group has bought a batch of 500 mixed 'woodland flowers' to plant out, mainly in the newly-cut coppice areas. The order was placed late in the winter and we may have got some plants more suited to hedgerow than woodland but some should stand a good chance of becoming established. If our resident muntjac deer don't pay them too much attention, that is. 
It would be nice to think that in a few years' time visitors to Boundary Brook at this time of year could take a woodland walk and admire carpets of spring flowers. This won't be easy, but with some forward planning and a willingness to make mistakes and learn from them, it can be done. 
Can you help grow, plant or monitor woodland flowers?
Planting and, in all probability, watering our 500 woodland plug plants presents a challenge in our present circumstances, but it's not impossible. If you live locally, don't mind working on your own and are prepared to comply with safe working rules please contact info@ouwg.org.uk
Please get in touch also if you would be willing to grow woodland plants at home from seed or plant bluebell bulbs next autumn, plant more 'plugs', monitor progress or help our wild garlic invade new territory!