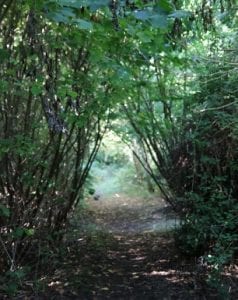 At the Oxford Urban Wildlife Group we respect the privacy of our supporters and visitors to our websites. This policy explains how we collect information, what we do with it, and what controls you have.
Your Privacy
The Oxford Urban Wildlife Group was established in 1988 to maintain and conserve wildlife in Oxford. We do this by creating and maintaining an urban nature reserve and educating the public (including school groups) in the principles and practices of urban nature conservation.
We take our duty to process your personal data very seriously. This policy explains how we collect, manage, use and protect your personal data.
We may change this document from time to time to reflect the latest view of what we do with your information. Please check back frequently; you will be able to see if changes have been made by the date it was last updated.
Refer to the sections below for more details on how and why we use your personal information:
1. Who are we?
In this policy references to the Oxford Urban Wildlife Group, or Group, or to 'we' or 'us' are to the Oxford Urban Wildlife Group which is a registered charity in England and Wales 1101126. Registered at Bon Abri, School Lane, Harwell OX11 0ES.
2. What personal data we collect and how we use it
What we collect
The Oxford Urban Wildlife Group is what's known as the 'controller' of the personal data you provide to us. We will usually collect basic personal data about you like your name, postal address, telephone number, email address and your bank details if you are supporting us financially and/or become a member.
Sometimes we will collect other information about you such as your date of birth or gender. We will be very clear with you that we wished to collect such information, our reason for collecting such information, and we would only do so with your specific consent and permission.
Why we need it
We collect your personal data in connection with specific activities, such as open day updates, newsletter requests, registration or membership requests, feedback, and donations.
The information is either needed to fulfil your request or to enable us to provide you with a more personalised service. You don't have to disclose any of this information to browse our sites. However, if you choose to withhold requested information, we may not be able to provide you with certain services.
Our marketing
Sometimes, with your consent, we will process your personal data to provide you with information about our work or our activities that you have requested or are expecting.
On other occasions, we may process personal data when we need to do this to fulfil a contract or where we are required to do this by law or other regulations.
The Group also processes your data when it is in our legitimate interests to do this and when these interests do not override your rights. Those legitimate interests include providing you with information on our appeals, conservation, campaigning, membership, fundraising, newsletter requests, feedback, and those of other carefully selected organisations. Please see the section on 'Legitimate Interests' for more information.
How we obtain your details
We will also hold information about your details so that we can respect your preferences for being contacted by us.
We collect your personal information in a number of ways:
When you provide it to us directly.
When you provide permission to other organisations to share it with us (including Facebook or Twitter).
When we collect it as you use our website.
When you have given it to a third party and you have provided permission to pass your information on to us.
From publicly available sources (where possible) to keep your information up to date (e.g. the Post Office's National Change of Address database).
We combine the information from these sources with the information you provide to us directly.
When providing permission for third party organisations to share your data you should check their Privacy Policies carefully to understand fully how they will process your data.
Children
If you are under 18 please ensure you obtain your parent/guardian's consent before sending any personal information to the Oxford Urban Wildlife Group or to any website. We do have activities for those under 18 so we may ask your age. Before taking part please ensure you speak to your parent or guardian.
Please note that we will not knowingly market to or accept donations or orders for goods or services from persons aged under 18 years.
As a parent or guardian we encourage you to be aware of the activities in which your children are participating, both offline and online. If your children voluntarily disclose information, this may encourage unsolicited messages. We suggest that you discourage your child from providing any information without your consent.
Volunteering
When you volunteer with the Oxford Urban Wildlife Group, we will keep you up to date with the work that we are doing and events we are involved with. We will also let you know of any changes that might affect you volunteering with us and which you need to be aware of. We will only use this information in relation to your volunteering with us and whilst you remain a volunteer with the Oxford Urban Wildlife Group. By agreeing to volunteer with the Oxford Urban Wildlife Group you are agreeing to us to sending you emails about volunteering and your volunteer role. We will on occasion share your email address with other Oxford Urban Wildlife Group volunteers, for instance in the process of organising an event you have chosen to attend.
Scientific data
If you supply the Oxford Urban Wildlife Group with scientific or environmental records, e.g. as part of a citizen science or volunteer project, they will be carefully stored and used by us and/or our project partners. Such records may include, for example, species information, location, dates and photographs.
Scientific data sharing helps to further research, education and our national understanding of biodiversity and conservation issues. Hence anonymised scientific data may be shared with project partners and third party organisations such as local authorities, academic researchers and students.
In some circumstances such scientific data may be sold, but the income will be directly used to support the running cost of these data-gathering projects. By submitting your scientific or environmental records you are indicating agreement with our approach.
Anything else?
All the personal data we process is processed by our Oxford Urban Wildlife Group in the UK; however for the purposes of IT hosting and maintenance your information may be situated outside of the European Economic Area (EEA). This will be done in accordance with guidance issued by the Information Commissioner's Office.
If you would like to change the way you hear from us or no longer wish to receive direct marketing communications from then use the contact form on our 'Contact Us' page.
3. Legitimate interests
We have a number of lawful reasons that mean we can use (or 'process') your personal information. One lawful reason is something called 'legitimate interests'. Broadly speaking Legitimate Interests means we can process your personal information if we have a genuine and legitimate reason and we are not harming any of your rights and interests.
So, what does this mean? When you provide your personal details to us we use your information for our legitimate business interests to maintain and conserve wildlife in Oxford. Before doing this, though, we will also carefully consider and balance any potential impact on you and your rights.
Some typical examples of when we might use the approach are for disseminating information, direct marketing, maintaining the security of our system, data analytics, and determining the effectiveness of our campaigns and fundraising.
Our vision
The aim of the Oxford Urban Wildlife Group is to maintain and conserve wildlife in Oxford.
Our objectives are to:
Help local people discover the city's wildlife and wild places.
Help to encourage more wildlife into the city.
Provide newsletters to tell local people what is going on.
Hold walks and talks, practical tasks and surveys.
Give you practical help and advice.
The Group will use various ways to achieve our mission and to support our objectives: we believe that people who share our values would love to know how to support us. We will process the personal information you have supplied to us to conduct and manage our business to enable us to give you the most appropriate marketing and information, and provide the best and most secure experience. These are what we consider to be our 'Legitimate Interests'.
Our interests
The following are some examples of when and why we would use this approach in our work maintaining and conserving wildlife in Oxford:
Membership information: We will send email and postal communications to inform members of important membership information, such as subscription reminders.
Direct Marketing: We will send email and postal marketing and fundraising asks which further the aims and objectives of the Group. We will also make sure our email and postal marketing is relevant for you, tailored to your interests.
Personalisation: Where the processing enables us to enhance, modify, personalise or otherwise improve our communications for the benefit of our supporters.
Research: To determine the effectiveness of fundraising campaigns and advertising and to develop our products, services, systems and relationships with you.
Due Diligence: We may need to conduct investigations on supporters, potential customers and business partners to determine if those companies and individuals have been involved or convicted of offences such as fraud, bribery and corruption.
We will also hold information about you so that we can respect your preferences for being contacted by us.
Your interests
When we process your personal information for our legitimate interests, we will consider and balance any potential impact on you and your rights under data protection and any other relevant law. Our legitimate business interests do not automatically override your interests – we will not use your personal data for activities where our interests are overridden by the impact on you (unless we have your consent or are otherwise required or permitted to by law).
For more information about your rights, please see the 'Your Rights' section.
Remember, you can change the way you hear from us or withdraw your permission for us to process your personal details at any time by using our contact form on the 'Contact Us' page.
4. Sharing your information
We only disclose information to third parties or individuals when obliged to by law, for purposes of national security, taxation and criminal investigations and the following:
If you have agreed that we may do so.
When we use other companies to provide services on our behalf, e.g. processing, mailing or delivering orders, answering customers' questions about products or services, sending mail and emails, customer analysis, assessment and profiling, when using auditors/advisors or processing credit/debit card payments.
If we receive a complaint about any content you have posted or transmitted to or from one of our sites, to enforce or apply our Terms & Conditions or if we believe that we need to do so to protect and defend the rights, property or personal safety of the Oxford Urban Wildlife Group, our websites or our visitors and for other lawful purposes.
If we merge with another organisation to form a new entity, information may be transferred to the new entity.
We may disclose aggregate statistics about our site visitors, supporters, customers and sales to describe our services and operations to prospective partners, advertisers and other reputable third parties and for other lawful purposes, but these statistics won't include any personally identifying information.
If we run an event in partnership with other named organisations your details may need to be shared. We will be very clear what will happen to your data when you register.
And, we will never sell or rent your personal information to other organisations.
5. Retaining your information
We hold your information only as long as necessary for each purpose we use it. This period will normally be for ten years after your last financial contribution or other activity with us, unless we have a good reason to keep your information for a longer period. This is based on any legal, regulatory or business reasons we may have to retain your information.
If you decide not to support the Oxford Urban Wildlife Group any more or request that we have no further contact with you, we will keep some basic information in order to avoid sending you unwanted materials in the future and to ensure that we don't accidentally duplicate information.
6. What are your rights?
A new data protection law, starting in May 2018, gives everyone a number of very important rights. These are:
Transparency over how we use your personal information (right to be informed).
Request a copy of the information we hold about you, which will be provided to you within one month (right of access).
Update or amend the information we hold about you if it is wrong (right of rectification).
Ask us to stop using your information (right to restrict processing).
Ask us to remove your personal information from our records (right to be 'forgotten').
Object to the processing of your information for marketing purposes (right to object).
Obtain and reuse your personal data for your own purposes (right to data portability).
Not be subject to a decision when it is based on automated processing (automated decision making and profiling).
If you would like to know more about your rights under the data protection law see the Information Commissioners Office website.
Remember, you can change the way you hear from us or withdraw your permission for us to processing your personal data at any time by using the form on our 'Contact Us' page.
7. How to contact us
If you wish to talk through anything in our privacy policy, find out more about your rights or obtain a copy of the information we hold about you, please get in contact via our 'Contact Us' page.
If you wish to raise a complaint on how we have handled your personal data, you can contact our data protection officer who will investigate the matter. If you are not satisfied with our response or believe we are not processing your personal data in accordance with the law you can complain to the Fundraising Regulator or the Information Commissioner's Office (ICO).
Our data protection officer can be contacted by using the form on our 'Contact Us' page or by post:
Bon Abri, School Lane, Harwell OX11 0ES
This document was last updated: September 2019.