OUWG Chair Helen Edwards takes us through the wildlife benefits of hedges in the second of her two-part look at how to make and manage a nature-rich hedge.
Management practices are crucial to the maintenance of a healthy hedge beneficial to wildlife: hedge-laying, where the layed stems die off as the new shoots grow, provides a source of dead wood. This dead wood and plant litter within the structure of the hedge can provide a valuable habitat for many invertebrates (which in turn will attract predators such as bats, shrews and birds) and cover for small mammals. Hedge bases provide a buffer zone to protect root systems and can be an important habitat in its own right.
Different features of a hedgerow will be important to different species. The more diverse in composition a hedgerow is, the more species it is likely to support due to a diversity of flowering and fruiting times. In general, native hedge plants such as blackthorn Prunus spinosa, hawthorn Crataegus monogyny, hazel Corylus avellena, dogwood Cornus sanguinea and field maple Acer campestris will support many more species than non-native plants such as garden privet, Ligustrum ovalifolium, leylandii and sycamore Acer psedoplatanus.
Hedge-laying promotes the lifespan of the hedge and its contribution as biodiverse wildlife habitat. This craft has great value in rejuvenating hedgerows.  If a hedge is laid every 10-20 years, it can remain vigorous and stock-proof indefinitely. Only a portion of the hedge system needs to be managed each year, saplings can be singled out for hedgerow trees and a significant amount of firewood can be cropped each year.
Coppicing, where stems are cut just above the ground, can provide a new lease of life to seriously damaged hedgerows. The timing of management is important to get the best from a hedge and avoid disturbance to animals breeding or over-wintering. The cutting cycle will determine the availability of fruits and flowers in a hedge; typically a cycle of two to three years is most beneficial for wildlife.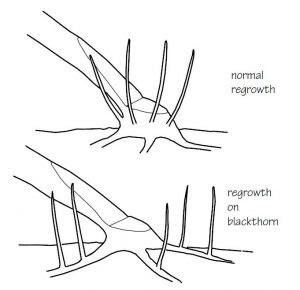 New shoots tend not to grow from the cut surface but from a point a little below. This is because the wood on the surface is killed by frost and water penetration. However, blackthorn, a common hedge species, regrows from roots at the side of the cut stump. As long as the hinge left contains some sapwood, bast and cambium – it will live.
OUWG has offered hedge-laying training courses over the past couple of years and will continue to offer members the opportunity to rediscover this craft, its value and to contribute to hedge-laying at BBNP.  It has been difficult to plan and run hedge-laying courses this winter, due to changes in Covid guidelines, but we will continue to update you on opportunities as they arise before the end of March.