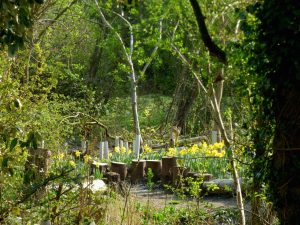 Hedges offer food in the form of leaves, nectar-rich flowers, berries, fruits, seeds and nuts, and are also good hunting grounds for predators seeking insects and other invertebrates.
Different flowers attract different pollinators, so a mixed native hedge supports a wide range of insects. Hedges make natural windbreaks – sheltered areas in the garden, particularly important for butterflies.
They also create areas of shade, increasing the range of habitats within the garden for wildlife and people! A hedge is an excellent natural shelter, a flourishing home for wildlife and a mini paradise for animals, full of fruit, shelter and cover.
The native hedge we planted in the Wildlife Garden at Boundary Brook in November includes hawthorn as the hedge matrix, with spindle, guelder rose, dog rose and dogwood intermixed, the first three all indicators of ancient woodland.
Guelder Rose (Viburnum opulus)
Common names: guelder rose, dogberry, water elder, cramp bark, snowball tree, european cranberry 
Family: Adoxaceae
A flamboyant, romantic, wildlife beacon, the guelder rose brightens woods with spring blossom, pretty flowerheads, autumn colour and vibrant juicy berries. There are many cultivars in garden centres. Its berries can be mildly toxic if eaten raw but they can be cooked into jelly or jam.  The red berries are an important food source for birds, including bullfinch and mistle thrush. The shrub canopy provides shelter for other wildlife. The flowers are especially attractive to hoverflies.
Spindle (Euonymus europaea)
Family: Celastraceae
Industrious, delicate and colourful, the spindle is beautiful in autumn when its leaves turn russet and pink and orange fruits ripen. Wildlife loves its leaves and fruit. The leaves are eaten by caterpillars of moths, including the magpie, spindle ermine and scorched, as well as the holly blue butterfly. The leaves attract aphids and their predators, including hoverflies, ladybirds and lacewings, as well as the house sparrow and other species of bird. The flowers are a rich source of nectar and pollen for insects.
Spindle timber is creamy-white, hard and dense. In the past it was used to make 'spindles' for spinning and holding wool (hence its name), as well as skewers, toothpicks, pegs and knitting needles.  The fruits were baked and powdered, and used to treat head lice or mange in cattle. Both the leaves and fruit are toxic to humans – the berries having a laxative effect. Spindle timber is used to make high-quality charcoal for artists. 
Dog rose (Rosa canina) 
Common names: dog rose, dog berry, witches' briar
Family: roses
A rambling beauty adorning hedgerows with its pale pink flowers dog rose spines clasp on to other shrubs to grow. Dog rose flowers are an important nectar source for insects and its fruits are a food source for birds such as blackbirds, redwings and waxwings.
Rose hips are high in vitamin C and were traditionally used to make syrups taken to boost levels. Rose-hip oil is also a popular skincare product. The hairs inside the hips are an irritant and are extracted to make an itching powder.
Hawthorn (Crataegus monogyna)
Common names: common hawthorn, hawthorn, May tree, one-seed hawthorn, whitethorn, quickthorn
Family: Rosaceae
Named after the month in which it blooms and a sign that spring is turning to summer. The pale green leaves are often the first to appear in spring, with an explosion of pale-pink blossom in May. It teems with wildlife from bugs to birds and can support more than 300 insects. It is the foodplant for caterpillars of moths, including the hawthorn, orchard ermine, pear leaf blister, rhomboid tortrix, light emerald, lackey, vapourer, fruitlet-mining tortrix, small eggar and lappet moths. Its flowers are eaten by dormice and provide nectar and pollen for bees and other pollinating insects. The haws are rich in antioxidants and are eaten by migrating birds, such as redwings, fieldfares and thrushes, as well as small mammals. The dense, thorny foliage makes fantastic nesting shelter for many species of bird. It has long been grown as a hedging plant and is a popular choice in wildlife gardens.
Common hawthorn timber is creamy-brown, finely grained and very hard. It can be used in turnery and engraving and to make veneers and cabinets, as well as boxes, tool handles and boat parts. It makes good firewood and charcoal, and has a reputation for burning at high temperatures. The young leaves, flower buds and young flowers are all edible. They can be added to green salads and grated root salads. The developing flower buds are particularly good. The haws can be eaten raw but may cause mild stomach upset. They are most commonly used to make jellies, wines and ketchups.
Dogwood (Cornus sanguinea)
Family: Cornaceae
Dogwood is a broadleaf shrub which thrives in damp woodland edges. It bursts into colour in the colder months, The timber is so hard, it was used for crucifixes.
The leaves are eaten by the caterpillars of some moths, including the case-bearer moth, while the flowers are visited by insects and the berries are eaten by many mammals and birds.
The bark of all Cornus species are rich in tannins and have been used in traditional medicine as a substitute for quinine – a drug that's used to treat malaria and babesiosis. A drink similar to tea can be made from the bark to treat pain and fevers, while the leaves can be made into a poultice to cover wounds.
Hedges are important features of the countryside, forming corridors between habitats along which wildlife can disperse.  A native hedgerow is great for wildlife and contains hundreds of species, including those also found in woodland and meadows. In the last 50 years we have lost more than half our hedgerows, so planting one in your garden will really help wildlife.
What makes up a hedge?
Think of the number of plants in a native hedge and you can imagine the volume of pollen and nectar even a short length will produce, as opposed to individual plants in a garden. The best hedges are made up of several different species which come into leaf, flower and fruit at different times. The mix of species also ensures a long flowering period – there's rarely a time when something isn't in bloom. This gives them year-round value for animal visitors. They're also a great way of introducing mixed native hedgerow species and reflecting the surrounding natural countryside. In more urban gardens, you'll have to keep on top of its growth though, as it can easily develop into a tall impenetrable thicket if you're not careful!
Make the most of your garden
Add more species if your hedge has only one, e.g. ivy, clematis or wild

honeysuckle. Or add some hedge-bottom plants, e.g. dead-nettles. Small trees, such as rowan and crab apple are also useful in a hedge. You can include them in a new hedgerow or encourage hawthorn and blackthorn to develop in an established one.




Chose

native trees and shrubs for a new hedge, e.g. hawthorn, beech, spindle, blackthorn, hazel, holly, field maple, buckthorn.




Grow a variety of plants along the hedge bottom, e.g. dog's violet, garlic mustard and hedge woundwort. It will become a wildlife haven.




Hedgerow berries provide birds with high-energy food in autumn and winter.




Trim once a year, preferably in winter and definitely not in the nesting season. Maintain an A

shape, broad at the base. Don't tidy up too much – leave leaf

litter and seed heads to attract hedgehogs, birds, small mammals and insects.
Planting a hedge:
For a mixed native hedge, try to include three plants of the same species per 1 m (3 ¼ ft) with one each of two other species. The best time for planting is between November and March, but not into waterlogged or frozen ground. Bare, rooted plants are cheaper, but take care not to expose the roots for long when planting. Until they are established, keep the base of your plants free from weeds with a thick mulch or matting.
Choosing your plants:
Native shrubs and trees like hawthorn, field maple, blackthorn, beech, hornbeam, wayfaring and holly make an ideal mixture of hedging plants. Grow rambling plants, such as wild rose, bramble and honeysuckle, ivy, clematis through your hedge to provide even more shelter and food for wildlife.  Ivy is particularly beneficial for nesting birds and it flowers in the autumn when few other nectar sources are available to insects. Encourage prospective wildlife by growing it up into large trees.
Top tips
In the first spring, cut shrubs back to 45-60 cm (18-25 in) above the ground. This encourages bushy growth.

To protect birds, wildlife hedges

should not be trimmed in the nesting season

(March to August). Try to cut sections of hedge at different times, so there is always an undisturbed place for wildlife.

Hedges should not be pruned until late winter or early spring so that wildlife can take advantage of the insects and fruits provided during the winter months.




Angling your plants at around 45 degrees as you plant them will help you to establish a hedge which is not too thin at the bottom.