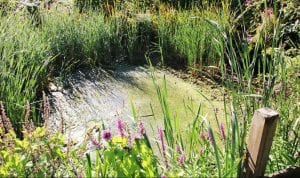 OUWG are delighted to have been successful in our application to the Trust for Oxfordshire's Environment (TOE) for a £5,000 grant to undertake a 'Ponds, Glades and Woodland Project', which begins in February 2021 and runs through to May 2022.
This project, based at Boundary Brook, includes restoration and development of freshwater areas, grassland areas, and work on high canopy and coppice woodland.
The kidney pond will be reprofiled to create safer, new marginal wetland habitats, and we will instal pond-dipping steps to the large water table pond. Light conditions will be improved for grassland, new glades created, and flora species diversity enriched.
Helen Edwards, chair of OUWG, said:
It's a wonderful opportunity to encourage, inspire and educate people to nurture and protect areas of wildness in urban environments.

We will be offering volunteers of all ages opportunities to gain new skills in wildlife conservation and ecology to protect our local nature sites for future generations."
Ben Heaven Taylor, TOE's CEO, added: "We know grants from TOE make all the difference to grassroots projects like this which might not otherwise happen.
We're proud to provide the funding to enable the OUWG volunteers to transform their vision for Boundary Brook Nature Park into a reality. Spending time outside brings health and well-being benefits to us all and this project, which benefits both people and wildlife, is the type of initiative we love to support.
Over the next five years, we plan to develop a rare wetland plant conservation project to help preserve Oxford's freshwater biodiversity.
OUWG also plans to protect its slow worm 'highway' that provides essential routes for the protected reptile, and hold species surveying opportunities to monitor and better protect biodiversity at Boundary Brook. Other plans include a children's poetry workshop inspired by nature at the site, a forest school to enable children to engage with nature and live camera footage of our resident badgers and foxes.