What makes Oxford special?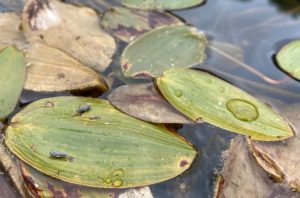 Oxford is a critical area for freshwater biodiversity.
It is home to a surprising number of rare and endangered wetland species, such as the Club-tailed Dragonfly, the Pondweed Leafhopper and Creeping Marshwort, a tiny plant with delicate white flowers that favours muddy pond-edge habitat. In fact, the Oxford area is of similar importance to famous freshwater biodiversity hotspots such as the Lake District, the New Forest and the Norfolk Broads.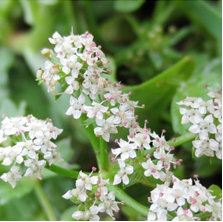 But despite the area's continuing richness, over the last 20 years, much of the freshwater wildlife that makes Oxford so special has undergone significant declines, and some species have already been lost. Water pollution, climate change, drainage of wetland habitats and lack of suitable habitat management are main drivers of these declines, and they continue to threaten Oxford's remaining freshwater wildlife. Species such as Greater Water-parsnip, Creeping Marshwort and Fen Violet are now clinging on at just a handful of sites in the Oxford area, and are at risk of local or national extinction.
Ex-situ Wetland Plant Conservation in Oxford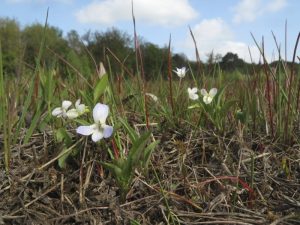 To help to protect remaining populations of some of Oxford's rarest wetland plants, an ex-situ conservation project was set up in 2017 as a collaboration between local expert Judy Webb (of the Oxfordshire Flora Group), Oxford Botanic Garden and Freshwater Habitats Trust. Originally, staff in the Botanic Garden began with propagating Creeping Marshwort, Fen Violet and Greater Water-parsnip, but the project was recently expanded to include a further four species: Common Bladderwort, Frogbit, Marsh Stitchwort and Water-violet. When the plants have grown large enough, they are planted out at suitable receptor sites around Oxford, under Judy's guidance and often with the help of volunteers. As well as guiding the practical work, Judy has also been carefully monitoring the two rarest species so far introduced (Creeping Marshwort and Greater Water-parsnip) for which she has a special responsibility as 'Flora Guardian' within the Oxfordshire Flora Group.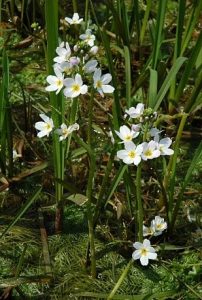 This work benefits the rare wetland plant species in several ways. Firstly, it boosts the number of plants in individual populations, which is important to help ensure their long-term survival. This is especially important for plants like Greater Water-parsnip, which has very short-lived seeds, viable for just one year. Secondly, by expanding the number of sites a species occurs at, through introductions to new receptor sites, we can help to reduce extinction risk. This is crucial for plants like the critically endangered Creeping Marshwort, which is only found at 3 sites in Oxford (two of which are introduction sites). Species are at a much greater risk of extinction if they only occur at a handful of sites, so by introducing cultivated individuals across new sites we can help to increase the resilience of the plants' populations. Thirdly, having a supply of plants in cultivation serves as a 'back-up' if any of these species are lost from the wild in Oxford, as we have locally sourced stock that can be propagated for reintroductions if needed. It also helps to conserve genetic diversity, which is easily lost when a species is confined to a few small, isolated populations. Lastly, the all-important monitoring helps to assess the status of existing populations and the success of introductions, which enables targeted conservation work.
The project so far…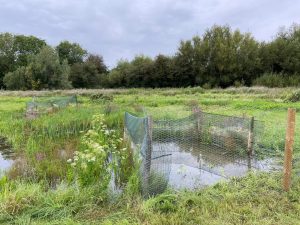 So far, three species have been planted out at receptor sites: Creeping Marshwort, Fen Violet and Greater Water-parsnip. All are doing well. Most spectacular is the striking Greater Water-parsnip that has been planted at Cutteslowe Meadow, on the floodplain of the River Cherwell in north Oxford. Greater Water-parsnip is a Priority Species in England and Wales that has declined significantly over the last 200 years, including here in Oxford. In 2018, as part of Freshwater Habitats Trust's 'Saving Oxford's Wetland Wildlife' project, ten Greater Water-parsnip plants from Oxford Botanic Garden were introduced to a pond at Cutteslowe Meadow. They have since grown into strong plants and are beginning to spread within the pond, which is an encouraging start. In August 2020, a further ten Greater Water-parsnips were planted out at the site by Oxford City Council volunteers, and we look forward to seeing how they fare. We are grateful for the support of Thames Water and the Trust for Oxfordshire's Environment (TOE) for Saving Oxford's Wetland Wildlife, which is helping to make a really significant contribution to conservation of some of the region's most endangered wetland plants.
In July 2020, as part of Saving Oxford's Wetland Wildlife, practical management work was undertaken by local wetland conservation specialist Rod d'Ayala across several sites to prepare areas for the introduction of more Greater Water-parsnip. Eight plants have already been introduced at Milham Ford Nature Park (by Rod and Judy), and a further ten will be planted at another site before the end of October.
The project is now expanding once again to create two 'Species Conservation Hubs' in Oxford, which is where Oxford Urban Wildlife Group and Boundary Brook Nature Reserve come in.
The Species Conservation Hub at Boundary Brook Nature Reserve
In order to increase the capacity of the project, Boundary Brook Nature Reserve and Freshwater Habitats Trust are setting up a 'Species Conservation Hub' in Oxford. The hub will be run by volunteers, who will be able to help cultivate some of the rare wetland plants until they are large enough to plant out at receptor sites. This will create more space to grow the wetland plants, and will also allow members of the local community to become directly involved with the conservation of Oxford's rare and varied freshwater wildlife. The hub will be equipped with interpretation panels, which will help to raise awareness of both the project and just how important Oxford is for freshwater wildlife.
Boundary Brook Nature Reserve is an ideal place to site a Species Conservation Hub, and we're excited to report that the hub is being set up here in September 2020. Boundary Brook Nature Reserve already has some wetland habitats on site, including a recently restored pond that will be rainwater fed (which is best for biodiversity, rather than nutrient-polluted tap water), and a ground-water fed pond that is currently having its banks reconstructed to increase habitat diversity within the pond. Greater Water-parsnip plants will be planted in both of these waterbodies as a trial, with the rest of the plants sited in colourful tubs by the visitor centre. Additionally, Boundary Brook Nature Reserve has a team of dedicated volunteers who will be happy to help care for these special additions to the site. We hope that the hub will help visitors to the site to learn about Oxford's rare wetland plants, and just how important the Oxford area is for freshwater biodiversity.
Saving Oxford's Wetland Wildlife is generously funded by Thames Water and the Trust for Oxfordshire's Environment (TOE) with funding from Grundon Waste Management, with additional support from the Hyne Trust, R G Hills Charitable Trust and the Martin Wills Wildlife Maintenance Trust.