The Pond and Marsh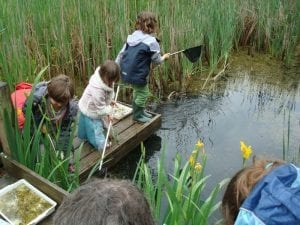 On the St Gregory's school side of the Reserve lies a 15 metre pond complete with a fully accessible pond-dipping platform. Here, all manner of aquatic wildlife – including frogs, dragonflies, damselflies, diving beetles, pond skaters, water stick insects, and newts – can be viewed at close quarters.
________________________________________________________
Butterfly Habitat Mounds
Surrounding the pond, two long, low mounds provide shelter and a variety of plants to attract nectar-loving insects such as bees, bumble bees and butterflies.
At a time when butterflies are suffering from loss of habitat, the Reserve provides a valuable home to the brown hairstreak butterfly, one of our rarest and most protected species.
________________________________________________________
The Hazel Copse
Around twenty mature hazel trees are coppiced, with cuttings used for pea and bean sticks and to provide support for climbing ornamentals in the kitchen garden. The Hazel Copse contains red campion, wild primrose, and violets, and more wild flowers are planned.
________________________________________________________
Animal Habitats
Scattered around the Reserve are extra habitats to encourage animals to make the Reserve their home. These include a hedgehog house, solitary-bee houses, a ladybird/lacewing box, many bird boxes including a sparrow terrace, a bat box and log piles for hibernating animals and fungal growth.
The Reserve has been designed to support many endangered species, with a slow worm 'highway' to provide essential corridors for our protected slow-worm population. If you are lucky, you may spot our family of foxes who have set up home in the Wildlife garden, or a badger emerging from the sett by the path to the allotments.
________________________________________________________
The Bird Orchard
In the Bird Orchard, fourteen varieties of native trees and shrubs provide fruit for numerous bird visitors. Spindle, rowan and yew thrive, while honeysuckle and bryony, along with herbaceous plants such as woody nightshade and wild strawberry provide rich pickings for birds for at least six months of the year.
Sparrowhawks, tawny owls, and red kite are among the birds of prey that frequent Boundary Brook looking for prey. Green and spotted woodpeckers can be heard drumming on the more mature trees, exotic ring-necked parakeets visit, rare redpoll and siskin have been recorded, and if you keep a very sharp eye out, you may spot the UK's smallest bird: the goldcrest!
Help us record the birds of Boundary Brook
________________________________________________________
The Demonstration Wildlife Garden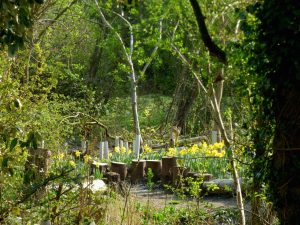 OUWG believes that any ordinary back garden can be made attractive to wildlife, and the demonstration wildlife garden has been designed to prove just that. The shrubs and flowering plants here are a mixture of wild and cultivated species chosen for their value to wildlife.
The demonstration garden provides nectar or pollen, seeds or berries, as well as a pond that is home for our Rare Wetland Plants conservation project.
________________________________________________________