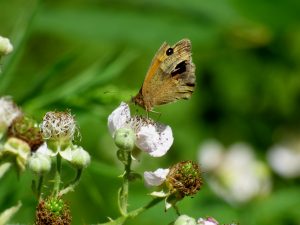 When the original one-hectare Nature Reserve was created in 1989, it consisted mainly of grass and wild flowers, with nettles dotted around and a few (mainly self-sown) blackthorn, hawthorn and elder trees, plus a bird cherry and plum trees grown by allotment holders.
The abundance of grass meant that a significant proportion of the butterflies found on site were those dependent upon grass for the food of their larvae. These were the Speckled wood; Meadow brown; Gatekeeper; Ringlet and Large and Small skippers, all of which could be seen in good numbers. Most of these butterflies can be seen at Boundary Brook now, except for the Gatekeeper, though it should appear very soon.
Another species whose caterpillars feed on grass is the marbled white, which is a 'brown' although it looks like a dirty white when flying, but that seems to come and go. I think the first time we saw them at the nature reserve was in the hot summer of 1995 and we have only seen them intermittently since, usually in hot summers. Luckily, the hot weather this year has resulted in a few Marbled whites appearing on site and they are flying around or nectaring in the nature reserve at present.
These grass-dependent butterflies used to be very abundant on site, apart from the Marbled white, which has only ever been seen in small numbers. However, the Reserve became dominated by bramble and scrub in after the mid-2000s, which meant that there was much less grass in open, sunny sites favoured by most species and the numbers dropped drastically. The only species that did not seem to be affected by the increased shading and decrease of open expanses of grass were the speckled wood (mostly found in rides between trees) and the Ringlet. We are trying to restore some of the grassland at present so we might see an increase in numbers over the next few years.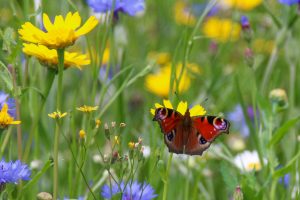 The next biggest group of butterflies were those species whose caterpillars fed on stinging nettles – the Small tortoiseshell; Peacock; Comma and Red Admiral. We have plenty of nettles on this rich, former allotment land but there used to be a very large patch opposite what used to be our organic allotment and this was the most favoured breeding site of the Small tortoiseshell. These species have 2 or 3 broods a year and I have seen Small tortoiseshells. Commas and Red admirals around at present and the Peacocks will probably be on the wing again soon. If you are visiting the Reserve it is always worth inspecting the nettle patches to see if any butterflies are showing any interest or if you can find clumps of black caterpillars in something akin to spider webbing.
Other butterflies that could be seen were the Large and Small cabbage whites and the Green-veined white and Orange tip. The first two of these four used cabbages as their larval foodplant so were only transient visitors from the allotments. However, the Green-veined white and Orange tip caterpillars feed on wild brassicas, such as Garlic and Hedge Mustard and also cuckoo flower, though I have also seen their caterpillars on Sweet Rocket (Dame's violet) when they haven't found any wild flowers around at the correct time. The Orange tip is a spring butterfly so you will not see it this year but the Green-veined white seem to have more than one brood so you might be lucky and catch sight of one, though they are almost impossible to distinguish from the Small white when flying. It is much easier to see the dark veining underneath the wings when they are stationary on a plant. The cabbage whites are flying around at present but really only use the Nature Reserve for nectaring. The two species that feed on wild brassicas are probably more common since we have encouraged the spread of garlic mustard.
The Holly blue used to be absent or just a passing visitor in the Spring because its Spring larval food plant, the Holly, was absent; but the second, summer, brood stayed to breed on the small amount of Ivy that produced flowers in the autumn. We now have several Holly trees on site and consequently see the Holly blue flying around in Spring much more often. I am not sure if any of our trees are mature enough to produce flowers but the butterflies clearly think they are worth checking out. The second brood are on the wing now so look out for them if you visit in the next week or two or during August or September. In hot years, this Blue can have 3 brood so worth looking out for them from April to early autumn.
Another blue, the Common blue, was also seen some years and this was probably using the clovers and medicks and other wild legumes as its larval food plant. When we planted some Birds foot trefoil the Common blue seemed to favour that as well. Another 'blue' butterfly present in the early years was the Brown argus which, as its name suggests, is brown. Its food plants on the Nature Reserve are the Dove's foot and Cut-leaved cranesbills, although on more suitable sites its main food plants are Rockrose and Common storksbill.
Both the Common blue and Brown argus seem particularly dependent on open sunny sites and were not seen for several years when bramble and scrub dominated but made an appearance again in our hot summer last year. I have yet to see either this year but they are worth looking out for during July and August.
A tiny butterfly which is quite hard to spot is the Small copper and the ones I saw last year were the first for many years. I have seen some again in the last week or two so again worth looking out for during the next three months. Their larvae feed on Docks and Sorrels so, as we have plenty of Docks on site, we should be able to see them every year but it could be that they only favour Docks growing in full sun or are very dependent on hot summers.
Another butterfly which has started breeding on site is the Brown hairstreak and it seems to favour young Blackthorn growing in a sunny site. These butterflies were introduced in the late 2000s though I only saw my first adult and first egg last year. You might be able to see these any time from now until late September so worth looking out for.
Last but not least of the butterflies that breed on site is the Brimstone and you could see the large, yellow adult male flying around at any time through mid to late summer, though their breeding season is the spring and this is the time when you are most likely to see them hunting for females around their larval food plants, the Common and Alder Buckthorn. The female is also large but not so easy to spot if you are not familiar with the species because she is a greenish-white so can be mistaken for a Large white.
Two other butterflies that can be seen on site in the occasional favoured year are the Painted lady and Clouded yellow, which are summer migrants. These are usually only seen in hot summers when there has been an invasion of large numbers from the continent. If we do get any visits, it is usually mid-summer by the time the butterflies are seen and they might breed on the thistles and nettles (the Painted lady) or leguminous plants (the Clouded yellow). The former have been seen at the Nature Reserve a few times over the years, though I have only seen the latter once or twice in the 30yr life of the Reserve.
Because the summer is one of the best times for seeing a variety of butterflies, bring your identification book with you if you visit in the next month or two.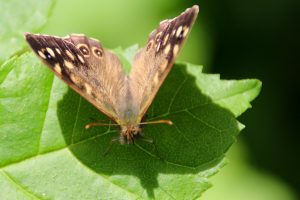 In the last week I have seen Meadow browns, small and large skippers; Ringlet; Marbled white; Speckled wood; Holly blue; Red Admiral; Comma; Small tortoiseshell. Large and small cabbage whites and Green-veined whites.
Let us know what species you spot – and if you're lucky enough to capture a picture, please do send it in!