Boundary Brook Nature Park has offered an ideal wildlife oasis for Forest School and Nature Education onsite for over 30 years, offering vital opportunities for young people to connect with nature and learn about ecology.
Since September 2020, the children in Robin & Goldfinch class at Larkrise Primary School have enjoyed spending half a day in the Forest School area of Boundary Brook Nature Park. 
Boundary Brook Nature Reserve is hugely important for us. Having a very close link to and being able to use something like the Forest School site, and visit the wildlife areas, to see wildlife in action gives the children a love of nature from a very young age"
Jon Gray, Headteacher, Larkrise Primary School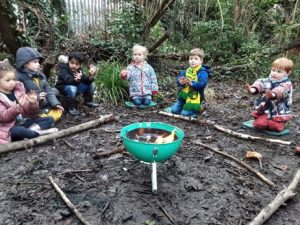 Our session begins with getting ourselves ready for our adventures. It is an important part of the Forest School experience to begin to learn to organise ourselves ready for a session in the wood. This means attending to our toilet needs and getting dressed in outdoor clothing. Lots of layers and boots are good as we follow the Forest School ethos 'There's no bad weather, just bad clothing.' In September it took some time for everyone to be ready however as the time has gone on the children have become skilled at dressing themselves and have become quicker. They are eager to get into the woods. When we are ready, and the register is taken we count the number of children and adults in our group. The children are asked to remember the 'magic' number (our head count) as we refer to this at regular intervals throughout the session.  
As we walk out of the school gates ready to begin our session, we practice another important safety skill, to be aware of the cycle path users particularly the cyclists as we cross the path to enter the wood. Once in the wood we sit on the listening logs and talk about our session. We start each session by reminding ourselves of the hazards we may encounter. This helps the children to understand risk and how they may manage it. At the beginning of the year, we used photo prompt cards as a visual reminder for the children but now they confidently tell us about the hazards they may encounter and how they will manage them. For example, the children   will know how to respond when they discover litter thrown over the perimeter fence and understand the detrimental environmental impact of this.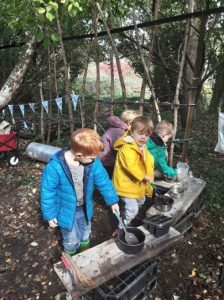 After our hazard reminder we open our weekly letter from Forest Bear. Each week he writes to children with a story, provocation, or invitation to play that the children may like to undertake. Alternatively, they may follow their own ideas. The children then go off to play for the main part of the session.  We see lots of tree climbing, den building, mud kitchen play, mini beast hunting, swinging on the rope tyre and hanging upside down off the ropes as well as crafts and imaginary play during this busy time. Some children prefer to move to the quieter parts of the wood to hatch a plan with their friends, whilst others enjoy being in the more open centre part of the woods where they can easily touch base with the adults. The adult's role is to interpret what we see and understand where we need to support, model, extend or stand back and wait to be invited into a game. What is evident to see is that the children are smiling, busy, active, and motivated in their learning. I am often reminded at this time of the quote by Maria Montessori: "Play is the work of the child." 
Towards the end of the session, it can be guaranteed that someone will remind us 'don't forget snack time.' A routine ensues where we 'tidy up' the wood following the Forest School ethos of 'leave no trace', wash our hands using a solar camp shower ready for refreshments and return to the listening logs. The children assist with giving out/ collecting cups for drinks. During this quieter time, we review our work, share our reflections and the children give ideas of their interests to plan in for the following week. It is a great opportunity to practice listening and turn taking skills as everyone has the opportunity to contribute their thoughts. 
We close our session with a team game either '123 where are you?'  or 'Freeze' and then return to school. 
Throughout our time at Forest School as the seasons change, we observe how each child grows. This growth is unique for each child. For some it will be confidence in their own ability to climb a tree, or to trust themselves perhaps to balance on a raised log without adult support. There are of course natural consequences for some actions, and this is authentic learning. For others it will be the resilience to pick themselves up if they sustain a small injury or to keep trying if they are building a structure that is not initially successful. For some it will be the opportunity to be dirty and to feel comfortable in a natural environment with the sensory experience this encompasses. Over time we note an emerging confidence, strength yet gentleness within the natural environment. For all of us, young and old when we return from our time here, we share the feeling of well-being, a connection to the natural world and a respect for it. We love our INCREDIBLY special time here!