Date/Time
Date(s) - 11/09/2021
2:00 pm - 3:30 pm
Location
Boundary Brook Nature Park
Categories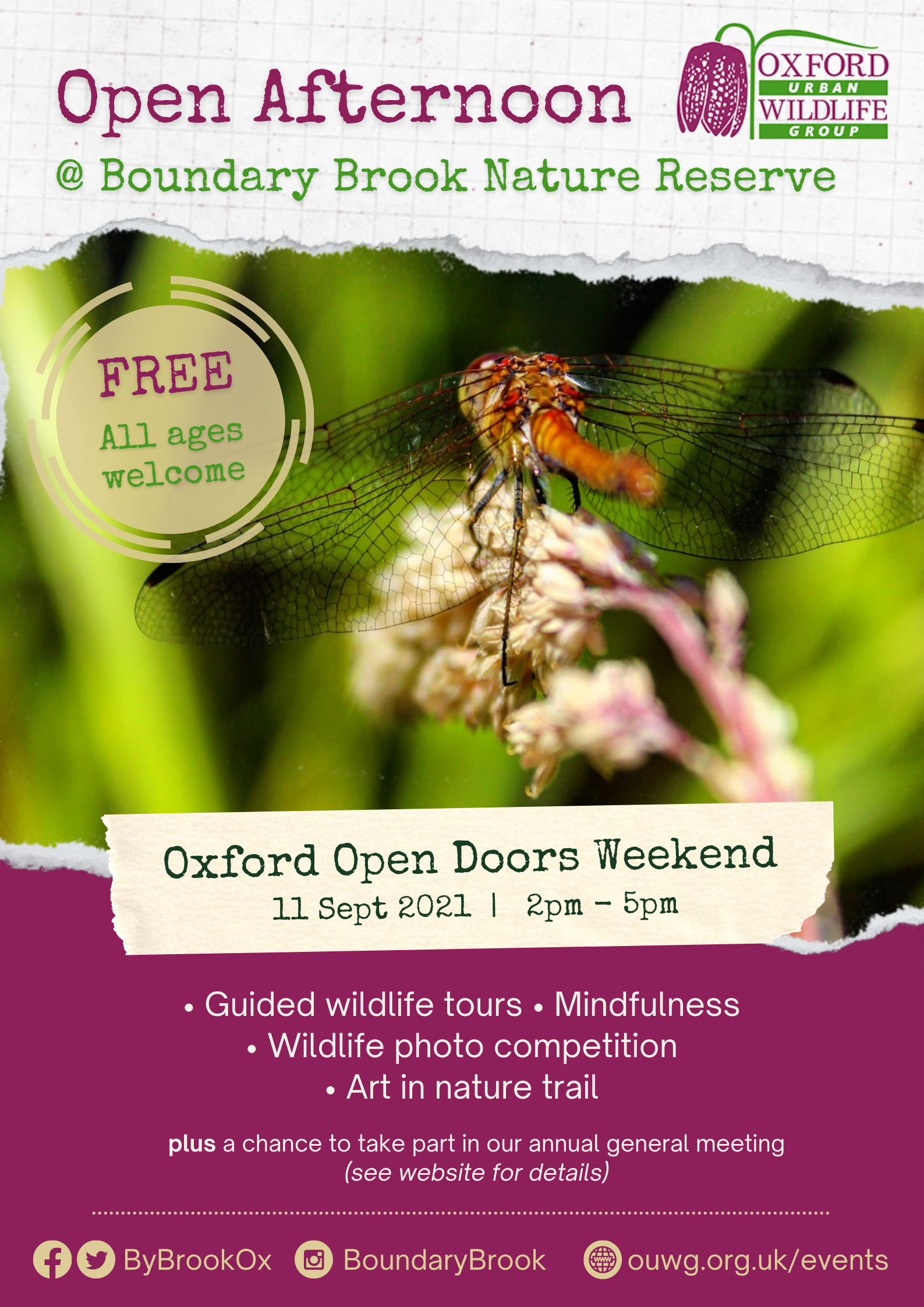 As part of Oxford Open Doors Weekend, we're excited to open our gates and welcome visitors to Boundary Brook Nature Reserve on Saturday 11 September for an Open Afternoon of activities – and as a special bonus, we'll be holding our AGM, open to anyone to attend, onsite.
We invite you to join us and enjoy short guided tours of our habitats, listen to the exciting developments of OUWG at BBNP over the last year, and contribute to a gathering of ideas for the future.
OUWG Open Afternoon, 2-5pm, Sat 11th September
Guided wildlife tours
Mindfulness sessions
Art in Nature trail
Wildlife photo competition
Its been an inspiring year in the nature park with lots of restorative and development work on site. We look forward to members joining us to hear what we've done this year, share ideas for the future, and elect trustees for 2021/22.
Now's a good time to offer to help
As always, we need more members to stand as trustees and to help run the group. Join our committed enthusiastic team of trustees and members restoring the Nature Park and increasing biodiversity and local community interest.
We are particularly looking for help with ecological surveying, habitat management, gardening, fundraising, publicity, and policy development.
Please contact us on info@ouwg.org.uk if you would like to attend the AGM or to find out more about OUWG.
Read Minutes of OUWG's AGM 2020
Please note that, in order to comply with our obligations to reduce the spread of Covid-19, booking for events is now essential.
Please email info@ouwg.org.uk to register for an event, so that we are able to manage numbers. The site continues to be open to members and we ask you to have sensitivity to others who may be socially distancing.